Sign Up for Text Alerts in WebAdvisor (for Employees)
Article ID: 495 | Last Updated: Tue, Jul 7, 2020 at 2:23 PM
Sign Up for Text Alerts in WebAdvisor (Employees)
Summary
Instructions for signing up for emergency text message alerts in WebAdvisor
Note: If you are a student, refer to our Student Instructions article.
Instructions
1. To access WebAdvisor, go to abtech.edu, select "Online Services" at the top of the page, and select "WebAdvisor".
2. Click "Log In" at the top of the WebAdvisor homepage, then enter your username and password.

3. After logging in, click on "Employees" on the right.
4. On the Employees Menu, click "Verify/Change My Contact Information."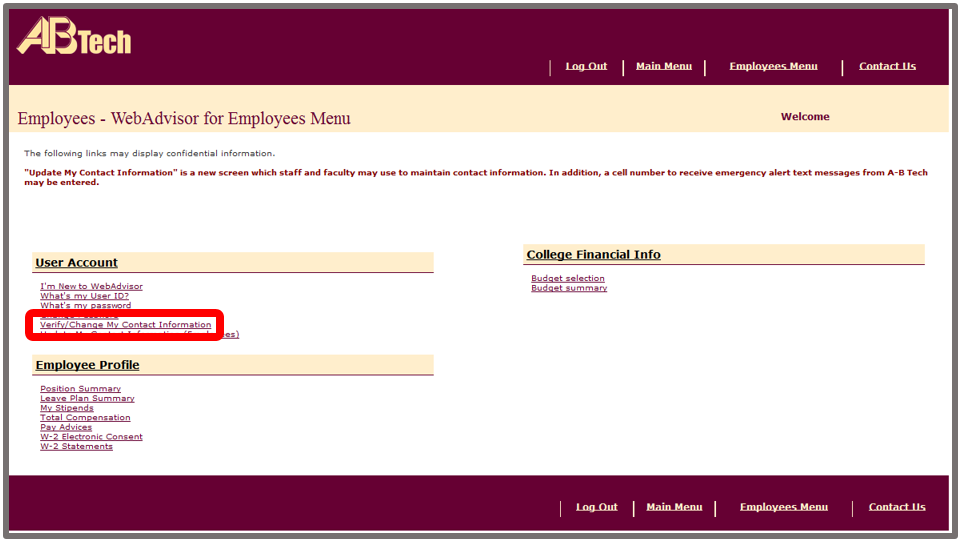 5. On the "Verify/Change My Contact Information" screen, enter your cell phone number in the "Alerts Phone Number" field, and select your phone carrier in the drop-down box next to "Carrier."

6. While you're on this page, also make sure the rest of your contact information is correct. Then scroll down to the bottom of the page and click the box next to "I hereby verify…" Then click "Submit."
Key Words: text alerts, alert, text message, cell phone, emergency, weather, inclement weather, notification, notifications