Contact Hours and Financial Aid
Article ID: 115 | Last Updated: Fri, Sep 16, 2022 at 9:56 AM
Contact Hours and Financial Aid
Summary
How contact hours relate to financial aid
If you are in certain diploma or certificate programs, your financial aid will be calculated by either contact hours or clock hours.
Contact Hours
Contact hours are the actual total hours you are in class. They are used to calculate financial aid for certain diploma and certificate programs, including the following:
Air Conditioning, Heating and Refrigeration Technology
Dental Assisting
Generally, 29 or more contact hours is considered full time, 22-28 is 3/4 time, 15-21 is half time, and 14 or less is considered less than half time. The amount of financial aid disbursed to you will be adjusted accordingly.
This status also affects loan funds. You must be enrolled in at least 15 contact hours to qualify for a loan. Minimester classes will not be counted toward your enrollment until they begin.
Contact hours for an individual class can be calculated by adding up the total number of class hours, lab hours, and clinic/co-op/shop hours for the class. These numbers can be found in the College Catalog, next to the specific course. The image below shows an example of how a course will appear in the Catalog. A student's total number of contact hours can be calculated by adding up the contact hours for each course they're taking for a given semester.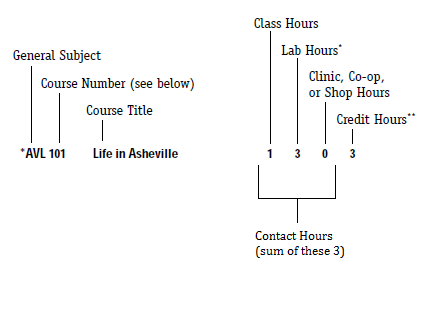 Clock Hours
If you are enrolled in the Cosmetology Diploma program or Esthetics Technology Certificate program, you will be paid financial aid based on the number of clock hours you complete in the program.
Additional Questions
For more specific information about how contact or clock hours affect your financial aid, you'll need to speak directly with a Financial Aid Advisor. You can call (828) 398-7595 or email financialaidoffice@abtech.edu.
Key Words: contact hours, clock hours, financial aid, diploma, certificate, Air Conditioning, Heating, Refrigeration Technology, Dental Assisting, Heavy Equipment, Transportation, Medical Transcription, Practical Nursing, LPN